Why Choose Us?
Thank for considering us for the repair or service of your Honda, Acura, Lexus, Toyota, Scion, Kia, Nissan, Infiniti, Hyundai, Subaru or Mazda. We will always make it our goal to earn your business by providing you with excellent customer service and the highest level of professionalism.
We are proud to say we are a 2 time AAA "Creme de la Creme Award Winner", out of the thousands of shops in Southern CA, we were named in the top 50 by AAA .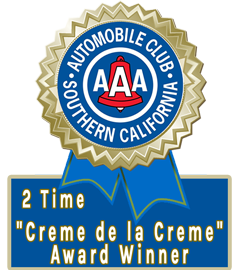 Please find below questions our customers have asked before they chose Automotive Instincts.
What Services Do You Offer?
We are a full service repair facility, but here's a few services we will mentionr: Preventative Maintenance such as: Oil Changes, Air Conditioning and Heating Systems, Fuel System Cleaning, Fluid Replacement, Dealer Scheduled Maintenance & much more. Repair Services such as: Brakes, Diagnostics and  System Evaluations, Steering and Suspension, Cooling & Heating Systems, Shocks & Struts, Radiators, Transmissions to Engine Rebuilds & more…   Check out our services page for more details.
Are You AAA Approved?
We are a AAA Approved Auto Repair (AAR) facility. Less than 5% of Auto Repair Shops in Southern CA are AAR shops.
The AAR approval process is tough. When a shop applies, a service specialist inspects the facility for cleanliness, proper tools, adequate technical training, and appropriate technician certifications
After approval, AAR shops are visited quarterly, re-inspected annually and monitored for customer satisfaction to ensure ongoing compliance with AAA standards.
2 time AAA "Creme de la Creme Award Winner", out of the thousands of shops in Southern CA, we were named in the top 50 by AAA .
As a AAA Member you receive a 24-month/24,000-mile warranty (whichever comes first) on parts and labor under normal operating conditions
As a AAA member you receive AAA assistance in resolving any repair disputes with the facility.
AAA makes sure we are qualified and experienced shop to handle your auto repair needs
How Many Third Party Reviews Do You Have?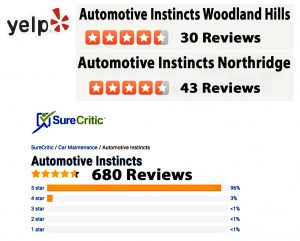 We are proud to say we have over 700 positive online reviews, over 680 through SureCritic, and between our two locations over 65 on Yelp.
Do You Have A Shuttle Service?
Yes we have a shuttle service, just come in, drop off your car, and our shuttle service will take you to your home or office. When your service or repair is finished we will pick you up from home or work and drive you back to our shop.
You probably know that dealership shuttles usually take multiple people at once, sometimes making many stops before you get dropped off, but our shuttles usually have only one drop off per shuttle, this makes it quick for you to get to your home or office
Theres no charge for our local shuttle service. Talk to the service advisor for our full coverage area.
How Long Have You Been In Business?
Steve Summers started the Northridge shop in 1987, and then expanded with Tom Langford to open the Woodland Hills shop. The owners had worked on Japanese cars for over 50 years between them, so it just made sense to open shops that specialized in asian autos and bring their expertise in customer service and professionalism to the San Fernando Valley through Automotive Instincts.
With all ASE Certified Techs, the highest quality standards, expert workmanship, along with award winning customer service we have experience substantial growth over the years.
What Does the ASE Blue Seal of Excellence Mean to Me?
The ASE stands for the Institute for Automotive Service Excellence.
ASE Certifications assures you of the knowledge and mastery of our mechanics.
The ASE is the only nationally recognized institute that certifies automotive technicians knowledge so that you can be confident that a knowledgeable repair shop and technician are repairing your vehicle.
We Have Been Honored with the ASE Blue Seal of Excellence, You can earn this recognition by meeting the following conditions as a business; You recruit the best employees, support their training, and insist on the best equipment. Your business stands out because of your ASE-certified staff and the quality reputation you've earned with your customers.
Out of the thousands of auto repair shops in California. Only a little more than 100 are awarded the ASE's highest honor for an auto repair shop – the ASE Blue Seal of Excellence.
Are Your Prices In Line With Other Shops?
Generally our customers save money compared to the dealerships, we also pass on lower costs to our customers compared to other local shops that service all makes, by specializing in only Honda, Toyota, Acura, Lexus, Scion, Nissan, Infiniti, Hyundai, Kia, Subaru and Mazda, allows us to control our costs very well.
We do want to mention that we are able to compete in price with other local shops when they use the same quality parts and hire comparable certified and qualified personnel as we do. Therefore we cannot compete with the shops that sacrifice quality and professionalism just to offer a low price.
We do high quality work at an affordable rate, but we do not sacrifice quality and professionalism just to offer low prices.
Will I get a Warranty?
Here at Automotive Instincts we are so confident in our parts and abilities that we cover every customers car that leaves our shops with a 24 Month / 24,000 Mile warranty covering parts and labor.  While most dealerships and independent shops offer much less, we feel confident in our parts and repair expertise to stand behind our work, So you are covered with us for all your repairs!
We are able to offer this type of warranty because we are confident in our certified techs abilities to get the repairs done right the first time, and we are positive that our parts will last and perform at the highest level due to our diligence to install only the best parts available.